Want to build an AR15 rifle? Here's all you need to do:
Pick the Value Package that Best Suits You.
Choose Your Options.
Open Your front door and stand back! The delivery service is on its' way!

NOTE: Our build kits do not include a lower receiver. You must purchase a lower receiver from a licensed FFL dealer and submit to the proper background checks for approval.  Please be aware of all state and local laws as they pertain to building and owning an AR15 rifle.
BYOAR makes no guarantees or assumptions about your ability to purchase or own an AR15 lower.
THESE KITS MAY NOT BE COMPLIANT WITH YOUR STATE OR LOCAL LAWS. REFER TO YOUR STATE OR LOCAL LAWS TO SEE IF YOU CAN OWN A STANDARD UN-MODIFIED AR RIFLE. AS THESE KITS ARE STANDARD AND NOT MODIFIED IN ANY WAY TO BE COMPLIANT WITH ANY STATE LAWS.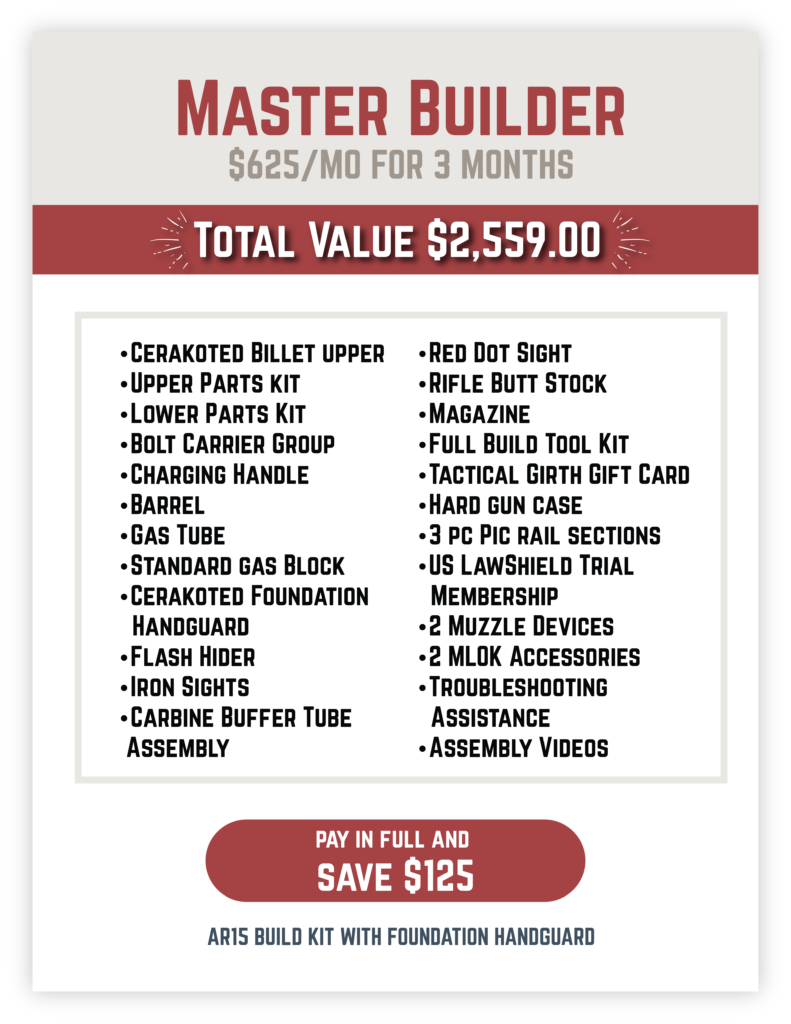 Master Builder
From: $625.00 / month for 3 months
$625.00/month for 3 months (or make one payment of $1750.00 and you're done!)
Build your full-length AR15 with the Master Builder Build Kit. Customize your AR15 by choosing your muzzle devices and MLOK accessories.
BYOAR Master Builder Base Kit Includes: Cerakoted Handguard and Upper, Tool Kit, Tactical Girth Gift Card, Red Dot Sight, 3Pc Pic Rail Section and US LawShield Trial Membership.
Customize: Choose 2 MLOK Accessories, Choose 2 Muzzle Devices
Upgrade: Optional upgrade to a straight or curved Parametric drop-in trigger
Bonus: Post-purchase assembly assist videos will be emailed to you. Can't Fire the weapon? Troubleshooting assistance is available. Money Back Guarantee!