The Easiest Way to Build Your Own AR-15 Rifle or Pistol
That entry-level mil-spec AR15 you can buy off the shelf likely is an A2 System with an A2 front sight and a set of plastic clamshell handguards with no attachment points. It likely has an A2 flash hider.It is clunky and "old" looking. It's  your Dad's AR-15 rifle.
So the question is – why buy standard? Build your own AR-15 and get what you want, assemble it from scratch, and own a gun that fits your style from the start.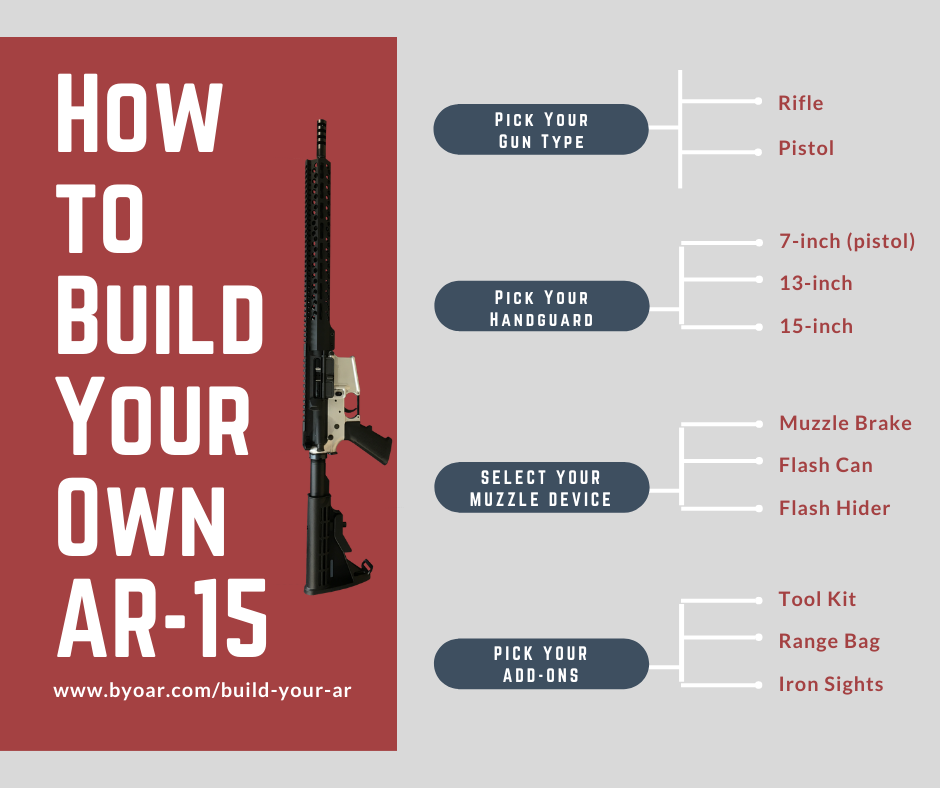 Please note… Our Build Your Own AR-15 kits do not come with a lower receiver. You will need to purchase a lower receiver from a licensed FFL dealer and submit to the proper background checks to take possession of said lower receiver.
**BYOAR makes no guarantees or assumptions about your ability to purchase or own an AR-15 lower.
If you already own an A2 style rifles, we have an option for you as well, "Upgrade your A2".
Get the build you want, even on a budget.
We are now offering 3 and 6 month payment plans for our customers who are unable to purchase their AR build kits in full at checkout.
 AS YOU MAKE THE INSTALLMENT PAYMENTS A FRESH ROUND OF PARTS WILL BE SHIPPED TO YOUR DOOR. YOU WILL NOT RECEIVE ALL THE PARTS AT ONCE. 
This allows you to pay off your purchase over a longer period without losing momentum with your build. Select a payment plan that works for you at checkout. 
Stop being limited by what you can find on the shelf.
Become an AR-chitect and build your AR-15, your way.
Even with a tight budget and limited experience you can build your AR-15 so it has the style and the capabilities that you've always desired in a gun. The Build Your Own AR-15 online tool allows you to build the gun you want at a reasonable price. Each base kit allows you to choose the handguard and muzzle device you want. As add-on options you can get all the essential tools you need to build your own AR-15, as well as your first rifle range bag.