So… you want an AR-15 rifle. The question you ask yourself is: Should I build it or just buy one?
At BYOAR we believe anyone can build their own AR. But that doesn't mean it's the right choice in every circumstance. Whether it comes down to money, experience, time, availability of parts, or just plain motivation – the choice of whether to build or to buy can be different for everyone.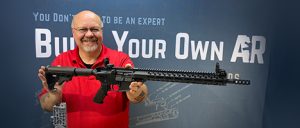 Let's break it down into the pros and cons.
Should You Build Your Own AR-15?
Pros:
Save money. For the most part, you will save money if you choose to build your own AR by either acquiring individual parts or purchasing a build kit. Of course, costs will increase in accordance to the value. So, spending $500 may build you a $600 AR. While spending $800 can build you a $1200 gun. The benefit here is having more control over your budget.
Know your rifle. As you build your own AR-15 you will gain knowledge about the parts and how they work and interface together. This will save you money in repairs when the time comes. You won't have to pay a gunsmith $100's to do a $75 repair because you have the knowledge to do it yourself. 
Build it the way you want it. You don't have to settle for what can be bought off the shelf. When you build it yourself you can do whatever your heart desires and your wallet will allow. Parts, colors, accessories, etc. Building your own AR is about creating what you want in a rifle.
Cons:
Lack of tools. You will need to invest in tools to do the job right. Count on an extra $150 – $200 in tools to build your AR. The plus side is that investing in tools means you will have what you need for subsequent builds (and trust us, there will be a next build. Once you start it's hard to stop!). You will also have the tools you'll need to do maintenance and repairs on your rifle.
Not enough time. Building your own AR requires time – time to acquire parts, time to assemble, and time to test your rifle. It all takes time. We live in an instant gratification world and when we want something, we want it right away. If time is limited, you may want to buy your AR off the shelf.  
Limited knowledge. Lack of knowledge about the process of building your AR can make it an intimidating endeavor. There's also the lack of knowledge about how the rifle works, which leads to insecurities about your ability to actually put together your own gun and have it function correctly. Fortunately, you have BYOAR to help you!
Should You Buy Your AR-15?
Pros:
A ready to shoot. Buying an AR gets you a rifle that is ready to go straight out of the box. Take it to the range, load it and shoot it. No need to wait for parts or take the time to assemble.
A full rifle warranty. If something is wrong you can return the whole rifle for repairs or replacement. Of course, most good parts come with warranties as well. You cannot, however, send your whole rifle to the company that only built your bolt carrier group…
Brand security. A tried and true name brand that has good standing in the gun world gives you security when purchasing an AR rifle. Tested and inspected parts and tested functionality are a standard with quality brands.
Cons:
Limited selection. When buying an AR you are limited to what's on the market and what you can afford. If you want custom options you're going to have to spend big money. 
Sensory overload. There are a HUGE amount of choices to choose from when it comes to selecting an AR to buy. It can become daunting to make a decision. 
Buyers remorse. 2 months into your purchase and you're wishing you had gone another route. This can happen with building too, so do your research.
What Will You Choose? Buy or Build?