This was my first foray into the "novelty" item: The Folding AR Stock Adapter produced by Sylvan Arms. While I am typically not a gimmick guy, I do love my gadgets if they work and serve a purpose. So, here's what I thought of this AR accessory.
First Impressions: Unboxing & Install
I ordered the adapter from Palmetto State and it arrived at my door 3 days later (kudos to PS
for the fast shipping). The retail price was about 140 bones. There are cheaper alternatives
out there but they are probably foreign made knockoffs.
The finish on this was smooth and consistent. It matched very well with the anodize we use on
our parts, so that was a pleasant surprise.
The directions were clear and concise (and in color even). The install was remarkably easy, took
me all of 8 minutes to disassemble and reassemble my AR pistol with this unit in place.
It functions smooth and locks into place solidly in the closed or ready to fire position. With a push
of the detent button you can swing it open easily and the ball detents hold it in the open or do not fire
position under its own weight, but swings easily into position with just a slight push.
I've played with the FOLD-AR where both the stock and barrel fold and that thing was a bugger to
unfold into position. I was told " it will wear in". this unit doesn't need to wear in, it worked perfect
right off the rip.
Time will tell on the durability but initial quality and ease of installation gets a thumbs
up from me.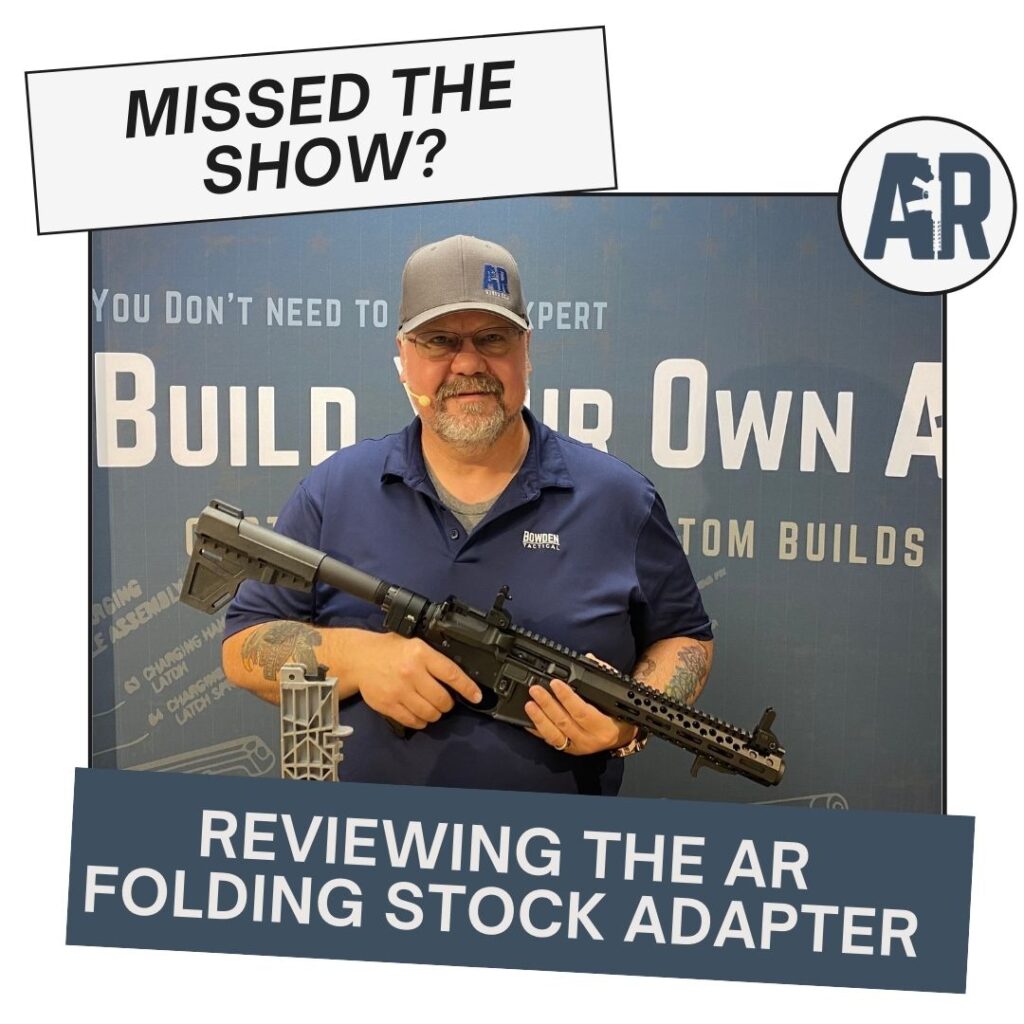 ---
What's the Point of the Folding AR Stock Adapter?
Some will ask, "what's the point? What purpose does this serve"?
A little less storage space, smaller range bag or gun case can be used.
On a short barreled pistol this thing can be folded small enough to fit in the console of your truck. As a CPL holder in Ohio we cannot have a loaded rifle in our vehicles but can have a loaded pistol.
I can store this away out of sight but be ready to rock in seconds if the need arises.
It meets my criteria for "works and serves a purpose."
Live Fire Review
I took the gun to the gun club and tested it for function with the folder installed. It ran almost perfectly
for 40 Rounds and hardly skipped a beat. The first 20 rounds were flawless, on the second
magazine I did find that I will have to adjust my adjustable gas block to a slightly more open position.

The LRBHO only worked 2 out of 3 times and I had two doubles feeds On the second mag. I would
assume the added weight of the bolt carrier extension is slowing my Bolt down just enough to cause a
slight issue. But I attribute this in no way to the function of the folding Adaptor but strictly to the added
weight of the BCG. If you have a non-adjustable gas block it should be a non-issue. If you do have an
adjustable and have cycling issues I would recommend a half a turn open to accommodate the added
weight of the bolt extension.
All in all I am very pleased with the fit, finish and function of this unit. My initial rating is 3 out of 4 stars and may be upgraded to 4 out of 4 over time as I see how durable the unit is.
---
Want to see what other people think? Join our online AR community!