Looking for the latest scope for your rifle? Check out our initial thoughts on mounting, sighting, and shooting and with the Vortex Crossfire 2 LPVO 1X4 scope.
Initial Thoughts: Unboxing
The scope is packed securely with battery included for the red dot sight. Plus, it includes a nice cleaning cloth and thorough and concise instructions for mounting. The finish looks smooth and satiny, very uniform look overall. First thoughts after opening: looks nice!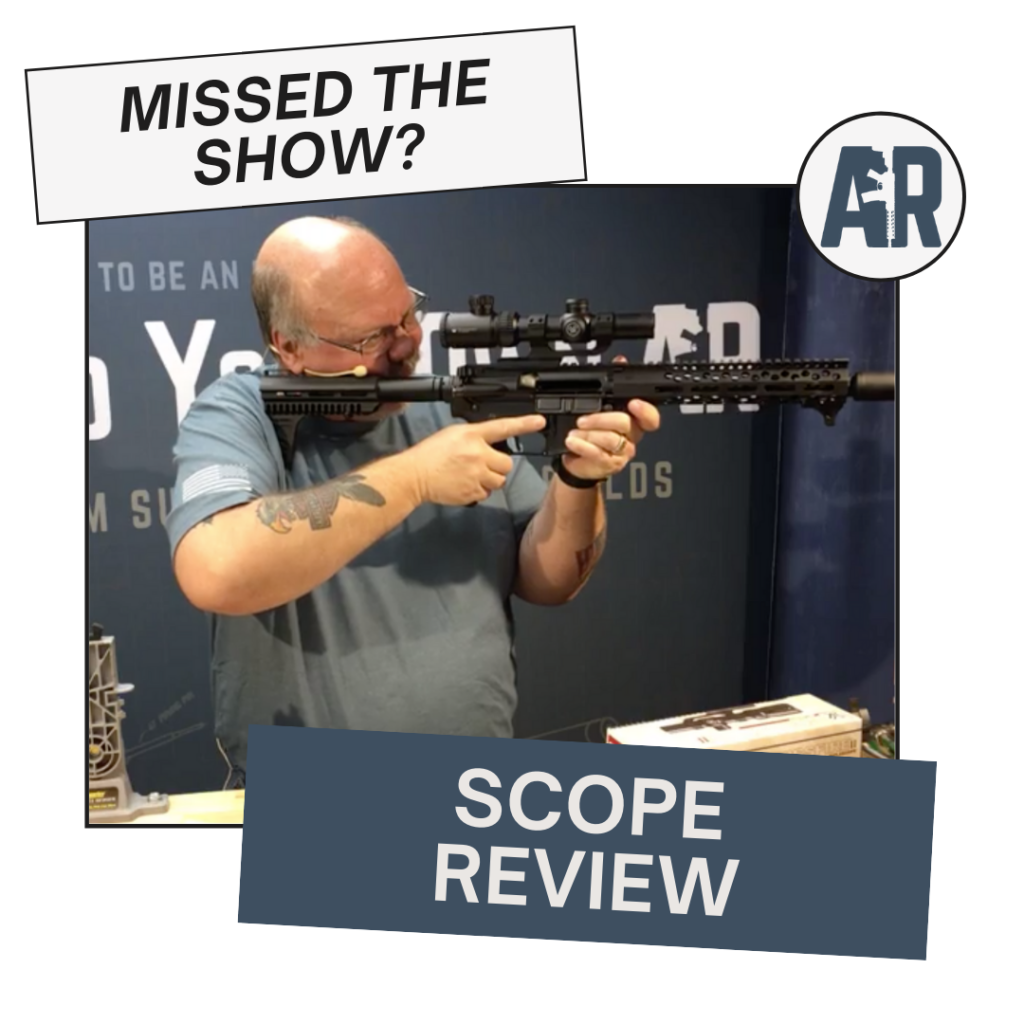 ---
Magnification adjustment ring was a little stiff at first but worked itself in.
Eye relief is good, the glass is nice and clear with very little ring seen so it gives great visibility even with both eyes open.
Target acquisition: Non-glare coating is great even in direct bright sunlight you get no ringing or halo effects.
Focus adjustment works well, lots of travel. For us old guys with a previous eye injury and subsequent cataract surgery, I have found some scopes with minimal focus travel hard to focus to my eye, compensating for my injury and lens replacement in my shooting eye.
Red dot crisp with no washing out, not very bright on max. Cannot really be seen in bright daylight. More for low-light hunting conditions than tactical operations.
Monstrum tactical cantilever mount: Mounted well, scoped locked in tight. Easy to level scope out. Nice finish on the mount, comparable to scope. Would have preferred shcs vs. Torx bolts (about $30).
Thoughts on Zeroing Out the Scope
Bore sighting. Used the old method of look down the bore at a known object about 100 yards away and dial the scope to the object. My first three shots at about 60 to 70 yards were about 1 inch low. However, a couple clicks up and I was dead on.
Turrets. I love Vortex's turrets, smooth, easy to spin with 2 fingers, clearly marked and the clicks can be felt very well. Caps came on and off easily. Didn't want to start cross threading as many turret caps easily do.
Return to zero. The return to zero turrets are really nice and work very well. With a small coin you can remove the turret and place the setting line and turret zero in line once you have zeroed your rifle out. If you try different ammo or move out to long distance and have to adjust your scope you can quickly return to your original zero and be right back where you started.
Shooting With the Vortex Crossfire II
I did not torture test it, but I did run about 100 rounds through it and it held zero consistently. All the features worked as they were advertised. I was easily stacking rounds into a 2-inch circle at 70 yards within a couple shots using a 10.5-inch pistol length 5.56 shooting fiocchi 55 grain fmjbt rounds.
Final Thoughts
Pros
The glass is crisp, clear and clean.
The turrets are easy to move and clearly identified as to direction and moa adjustments.
The return to zero is easy to set and use.
Great field of view on zero power with quick both eyes open target acquisition.
The focus adjustment is easy to move but stiff enough to stay easily in place.
The overall look and feel of the product is solid.
Cons
Wish it included a quick throw lever for the magnification adjustment. This is a must have for deer hunting situations. We might jump a deer at 20 yards and zero power is needed and might see a deer a hundred yards away and being able to zoom in quickly is a must. With a throw lever you don't even have to look just grab it and throw it to one side or the other. Without it you find yourself having to get 2 or 3 bites on it to get it fully to one power or the other.
Would like brighter setting on the red dot for bright daylight applications. The red dot on 11 cannot be seen in bright light of day. I know this is not meant to be a tactical red dot and the red dot is there for those early morning and evening first and last light hunting applications. But you could easily use this as tactical red dot application if needed if the dot was brighter.
It's made in China. I prefer to buy American-made, but the options are limited and expensive in that market. This is, however, my third Vortex purchase and so far all have been flawless.
For an under $200 option to get into an lpvo with a red dot you can't go wrong with this Vortex scope. And, what's not to like about Vortex's no fault warranty? You can drop your rifle and bust your scope and they will replace it.
---
Will you be getting the Vortex Crossfire II? Join our online AR group and let us know what you think!