As we launch the New AR-V 7-inch handguard and sales of the smaller sizes ramp up, we thought you might like a little MP5 history…
What is the MP5?
The MP5 is a 9×19 parabellum submachine gun developed in the 1960s by the German small arms manufacturer Heckler & Koch. There are dozens of variants and clones available on the market today. The MP5 quickly became one of the most popular submachine guns in the world, being adopted for use by over 40 nations and militaries as well as law enforcement, intelligence and security organizations.
---
How has the MP5 been used historically?
In 1980, the MP5 achieved revered status as a result of the British SAS storming the Iranian embassy in London, live on national TV, rescuing hostages and killing 5 terrorists all with MP5 submachine guns. The MP5 had become the standard of Swat and law enforcement agencies in the USA as a result. However, as a result of the North Hollywood shootout in the late 1990's most police special teams moved to AR-15 based rifles.
Looking for an MP5?
The H&K MP5 remains a popular weapon with the military, law enforcement and civilian markets. With dozens of variants, the collector can spend years acquiring them all. Its small size and portability make it a great defensive weapon. They are really fun to shoot and, in more normal times when ammo is readily available and less expensive, they can be affordable to play with for extended range sessions.
There are dozens of different looks to the MP5 manufactured over the decades, but the classic MP5 with the sloped plastic handguard, side charger and iconic HK sights is still by far one of the most popular. This is the model we used for our AR-V style handguard. Designed for the AR-15 pistol platform you get the MP5 look without the cost.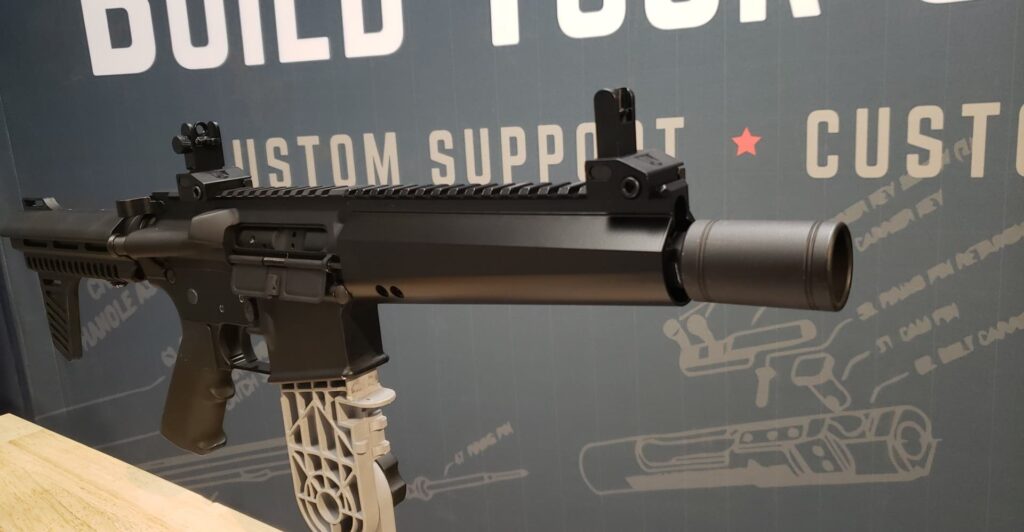 The New 7-inch model opens this look up to the direct impingement 5.56/.223 7.5 inch pistol market. If the market demands it we may even look at a 9 to 10 inch model…… Ohhhh and a little secret we may or may not be working on will really make this an HK MP5 clone, we'll let you guess what that might be…..Stay tuned!
If you want more in depth history of the platform check it out here.
---
Want to see how our customers are using the smaller AR-V handguards in their builds?